Jewellery Artist Monica Squitieri talks sustainability...
How do we really do organic and make sustainable changes in our own lives? Are they just buzzwords? I enlisted the help of my friend and sustainable jewellery designer for a better understanding.
" I think it's really about balance. I think that most of us live in a community where it's moreover about finding balance than completely changing our lifestyle to fit the ideal meaning of the word organic. For me, I do what I can based on what I'm comfortable with. I do what's sustainable for my lifestyle" —Monica
There is most certainly a wave in the organic direction, as it has seemingly overnight become "cooler" to support and shop refurbished, repurposed, recycled, small batch, local, handmade, more than ever before, but how do we just adopt a little bit into our lifestyles to try it on for size?
To me, an organic lifestyle means natural. It also means free flowing. I hope that my organic lifestyle can be seen in my work. I am inspired by pretty much everything, but in regards to my line, specifically California nature as well as the vibrations of music. This lifestyle is important to me because it allows me to be honest with myself about who I am and ultimately provides continuous inspiration for me to create new pieces.
Monica expands on all things jewellery, sustainability, nature, and their place in her life.

On the meaning of sustainability. For me, sustainability means mindfulness. It means honoring my passion for creating, and taking the road less traveled. In other words, making more "stuff" to hang out on this planet can be done in a way that has very low impact. Creating with a mindful stance on production keeps me in check and in doing so, keeps my business practices locally made and in small batches.

On her sustainable brand. I use recycled metals as much as possible, I do not work with incredibly toxic chemicals or lead, and in my studio I recycle all of my scrap metals. Regarding packaging, all of my paper packaging is recycled, and my jewelry bags are made of unbleached muslin.

On the myths surrounding the words. I think that just like with any word, there are multiple meanings. The bottom line is, the value comes from what the word means to you. For some, the value of the word may be found in more of the traditional meaning, such as organic serving as a description of how things are grown, and sustainable meaning little to no harm is created during production.

I think my main take away from leading my particular life style, is that; there is no right way to do something. It's about finding balance, balance in the self, in life, with others, with business, with everything. Balance in my business means that I want to create jewelry, but in order to do so, I have to melt metals that were mined somewhere. So, one form of my balance- and ultimately sustainability is to recycle my metals when possible.

In my personal opinion, I believe that a myth associated with these words is that you can't be sustainable if you are not employing every single sustainable practice out there. I don't practice that way.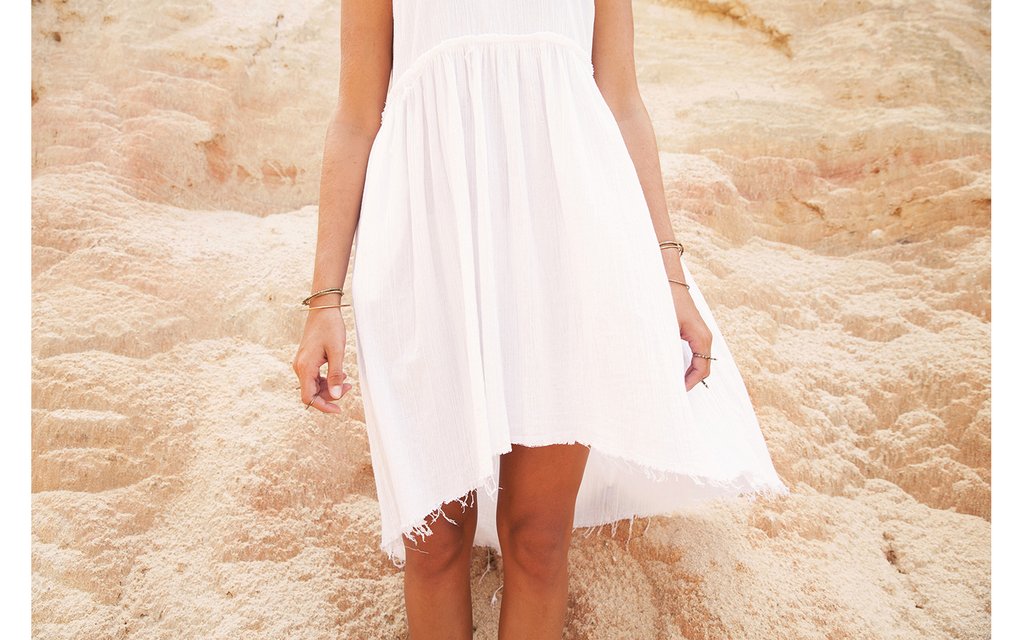 On other sustainable brands out there. There are plenty of designers producing in house, locally, or sustainably. A couple designers that are emerging and really making a name for themselves in the fashion world are Megan Huntz an Atlanta based fashion designer who hand creates her fabrics. For example, a patterns that she hand developed was from allowing rust to organically form on the cotton, and then print her own fabric from the sample. She produces in house as well as works in a similar vein as Stella McCartney, collaborating with other (local) artisans on projects.
Maggie Pate is another emerging designer with an enormous social media presence. She has truly remained honest with herself by not allowing this presence to influence her to expand her brand in an unsustainable way. Maggie started off with gorgeous, printed silk scarves and more recently has launched a small line of easy to wear, effortless, silk dresses. I really do feel that we will be seeing and hearing even more about Maggie in the near future.
On sustainable production? My production begins with design through photography, sketching and wax carving. Now that my brand has grown, I've needed to work with a local caster for the pieces in the line that are not hand forged, of which I do myself. Once the pieces are casted, I do all the finishing, shaping, stones setting in house with my own hands. Though, now my business is growing, and I may need an extra pair of hands and eyes to help me with the stone setting. I only keep a small stock in the studio, which falls in line with sustainability. This means that many of the pieces that my customers order are made to order. I try to document parts of my production on Instagram as well. You can always check in there to occasionally see how the process is done. @monicajewelryca
"I am not a guru by any means. This is all an active process of awareness and compassion. But I can speak for myself and how I go about my day. I think the main tip is a gentle reminder to be aware. Awareness of what I am doing (buying, eating, driving and idling when unnecessary) and how it affects me, and how it affects others. Others being, humans, animals, town, city, planet, world and so forth. Just being aware over time will bring insight on what I feel comfortable practicing in my own life style."— Monica
On how far we've come. I do believe we've come a long way in sustainability and awareness in design. As far as how fast we get there? I can't answer that. But like anything, it's a process. In time, I do believe that the "cool factor" will continue to rise in regards to shopping and consuming sustainably.
Monica, myself, and her rescue Noe in her studio in California