Vintage clothing comes with a story that you can continue...
I am a lover of vintage clothing and vintage shopping, but more a collector. And when the mood strikes there is no better way to spend a lazy Sunday than sipping coffee or iced tea and trolling the racks of a city's famed vintage shops. If you can find a patient partner that's a bonus! The best kind are the friends you need catching up with, are having relationship troubles, or are totally okay with talking about themselves for a few hours. Because you have work to do; hunting for gems.
I love clothes in general but really love when my vintage pieces get compliments when mixed with my Zara. I pride myself in saying "it's vintage" because I wish others would go find an amazing one of kind piece so they can say it too. And we need to snag these amazing items now because since it is 2016 and stuff from the 90's is almost considered proper vintage, what are we going to do when todays's fast fashions are in the vintage shops? Travesty.
The love affair started at age 12, remember when cords were in? Around the time we had Grateful Dead patches on our backpacks but didn't know their songs. My friends and I were buying vintage cord bell bottoms in the nineties, indicative of a passed decade, and the spirit of the sixties and seventies still haunts us today. All of us, who wish to be transported back if given the chance. Who else has picked Studio 54 as their 'if you could go back in time place?' I have, for all the glitter, disco, and Bianca Jagger in this world! That is where you would find me. (Seventies Laurel Canyon takes the west coast top spot if you were wondering)
We admire imagery from the past, like seen here. I picked three enviable women whom represent certain time frames and places. Images that most people conjure up when their names are called or a quick description is said. i.e heroin chic or Kate Moss is very attached to the Nineties, and we can all picture an iconic image if not a few. As is thee Jane Birkin. Though a toss up between an actual Birkin bag or the actress herself, most have visions of the her in effortless denim or with her lover Serge Gainsbourg in Paris. And of course Stevie Nicks, boho babe and flower child in California.
Shopping vintage in cities other than your own is an incredible way to pick up one of a kind pieces that are truly just that. There is no way your friends at home will have anything like that, nor will the fashions of your city be like the fashions of your travel spot for the given period. You get to take home a bit of stylistic history and incorporate it into your personal style, remixing your wardrobe with a bit of vintage.
I have collected vintage blouses for about 8 years. It started by accident in New York City where I used to live in the Lower East Side. An amazing experience and city as many know. There was a great shop around the corner from me on Orchard that I used to go to on weekends (they had a good boyfriend chair with mags for my roommate Kelly) Being broke in NYC is nothing new so snagging a designer blouse was such a coup. I picked up an Oleg Cassini one weekend and was thrilled. Oleg Cassini dressed Jackie Kennedy when she was the first lady, and I knew so because of my Mother's love for Kennedy Biopics. I naturally called home to tell her of my good fortune. Next came a Gianni Versace out at the famous Beacon's Closet in Brooklyn. That was a win, as these finds happen if by magic. Not only do you have to be in the right place at the right time, you have to spot them, and they fit, and fit your budget too. It's a perfect storm, a perfect triangle lining up. Other blouses filed in, a few Celine's, one when Karl was designing for them, and a very notable one came from Stockholm. It was 80's Celine with matching skirt that I couldn't pass up and it also didn't break the bank. Since then we have added an amazing Kenzo from Le Swing in Barcelona, and the Chanel shown here also from Le Swing. And just to note the large sunglasses are vintage Dior an absolute steal from Milan, keep your peepers peeled for sunnies when out hunting, fabulous way to change a look.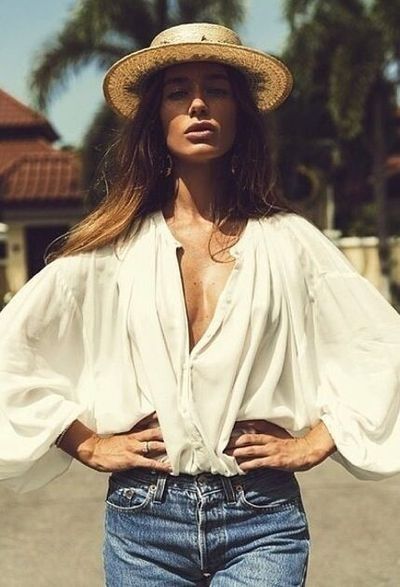 I love shopping vintage as I love telling these stories and reliving the amazing memories I had acquiring them! I remember who I was with, how it went down, and where I have worn them. My vintage pieces will easily elevate an outfit no doubt, I feel unique in wearing them and hope to urge others to try their hand vintage shopping even if it is just for a little bit. Don't get overwhelmed, as much as it digging for treasure you can streamline your approach like I did with blouses. If you need a beach cover up or day dress, stick to that. If you stumble upon something else that is a magical bonus!
The amazing beaded suede and fringe shawl comes from Garments in Berlin's Mitte District, as does the sheer piece shown above on top of the Stones T-shirt. I wasn't leaving Berlin without a visit to their amazing shop, so much so I left a very boozy brunch with DJ's to run around the corner. I don't know who's credit card these beauties ended up on, but I don't think it was mine.
Shopping vintage has many benefits that include the normal aesthetic kind but it is also good for the environment. We are becoming more mindful of what we put in our bodies and we should be just a bit more mindful of what we put in our wardrobes too. Fast fashion is thrilling, don't get me wrong, designer shapes at affordable prices (hey fashion editors don't call Zara "Zeline" for nothing!) but they are also considered throw away. You will probably not want to throw away your vintage finds anyways as it took a long time to find them. And if shopping high end for quality is out of the question than I urge you to hit the V rails as you will most likely find the original shapes the runways are recycling anyways.
A few favorite vintage stores!
Feathers Vintage Austin
Garments Berlin
Le Swing Vintage Barcelona
Amarcord New York City
Beacon's Closet Brooklyn
House of Vintage Toronto
Painted Bird Los Angeles
Goodbuy Girls Nashville